FAQ on Wednesday Night Dives

Schedule: 6 p.m. dive time unless specified otherwise at Sub-Aquatic Sports.

Weather Policy: Dives are cancelled if a Tornado or Thunderstorm Watch/Warning is issued in the county where we will be diving.

Cost: All dives are free except for possible parking costs at the lakes. Occasionally, OPTIONAL events are scheduled like boat dives, U/W Poker or Dive Lotto that have a fee associated with it to participate. These events again are optional; do not feel obligated to participate in this portion of the evening dives if you do not wish to.

Watering Hole: With the exception of diving, our next favorite pastime is eating. After each dive, the group usually grabs a bite to eat at the closest local joint around. Please join us. This is a great time to network with new dive buddies.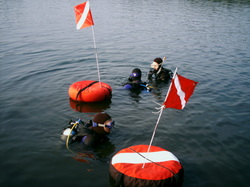 Dive Flag Use it or Risk Getting a Ticket or Worst, Injured.

The Rule:
Any person diving or submerging in any of the waters of this state with the aid of a diving suit or other mechanical diving device shall place a buoy or boat in the water at or near the point of submergence. The buoy or boat shall bear a red flag not less than 14 inches by 16 inches with a 3-1/2 inch white stripe running from 1 upper corner to a diagonal lower corner. The flag shall be in place only while actual diving operations are in progress. A vessel shall not be operated within 200 feet of a buoyed diver's flag unless it is involved in tendering the diving operation. A person diving shall stay within a surface area of 100 feet of the diver's flag.
---