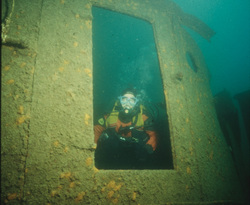 Whitefish Point
August 22-24

You cannot sail in or out of Lake Superior without passing Whitefish Point. It has long been an important waterway; in fact, the Whitefish Point Lighthouse is the oldest operating light on Lake Superior. Unfortunately, a lighthouse cannot help against gale force storms and collisions which is why Whitefish Point is known as the 'Graveyard of the Great Lakes.

Whitefish Point is one of Michigan's Underwater Preserves and home to over 200 sunken vessels including the legendary Edmund Fitzgerald. The Edmund Fitzgerald sank in 530ft of water, just a tad too deep for the average diver, so we will focus on wrecks in the 40-120ft range.

If you love maritime history, you must read the tales of these ships. For example, only the captain survived the sinking of the Myron, a 186ft wooden steamer that now lies in 52ft of water. The oldest known marine engine is from the wreck of the Indiana. That engine now sits in the Smithsonian Museum in Washington D.C. but the remainder lies in 100ft of water off of Whitefish Point. The three masted wooden schooner-barge, Niagara was coming from Wisconsin when she encountered gale force winds and lost 9 crew members. The Miztec lost 7 crew during the 1890 storm. The Vienna wreck sits majestically in 145ft of water after colliding with the schooner Mattie C. Bell.

Make this weekend truly special and add some extra time to see the beauty of the Upper Peninsula. Besides diving, there is the Great Lakes Shipwreck Museum at Whitefish Point to explore. It has many displays and artifacts including the bell from the Edmund Fitzgerald. Bring your hiking shoes and visit the trails of Tahquamenon Falls State Park and the largest waterfall east of the Mississippi. Stop at Camp 33 Tahquamenon Brewery and Pub for dinner. Accommodations are at the Magnuson Grand Hotel in Paradise. The waterfront property has an indoor pool and Jacuzzi so bring the family.




---
Package Includes:

Hotel Accommodations at the Magnuson Grand Hotel on Friday and Saturday based on double occupancy
Morning Dives on Saturday and Sunday,
Hotel breakfast
Hotel taxes
Sub-Aquatic Sports & Service t-shirt and guide

Space Available

: 6

Cost

: Diver $479

Vacationer $209

Call for more information
269-968-8551


---