Dive World War II History
Truk Lagoon
April 26 - May 7 or May 11th

Shipwreck Capital of the World

We won't lie, it's a little eerie swimming around a ship that went down with hundreds of lives on her. Ever walkway and bridge causes ones imagination to run wild; if only these walls could talk, what stories there must be!

So much tragedy, so much death, so much history can be found on shipwrecks of Truk Lagoon.






---
Package Included:

· 9 or 14 days of accommodations at Blue Lagoon Resort in an ocean view room.

· Truk hotel taxes and transfers

· Dive Package—either 14 dives or 36 dives depending on package

· All use of tanks and weights

· 1 night accommodations at Guam Fiesta Resort in ocean view room.

· Transfers in Guam and taxes


Not Included:

· Air flight—please contact SASS for help. Expect to spend approx. $2000 for flight.

· Departure tax of $30

· Meals

· Dive Permit



PLEASE CALL SUB-AQUATIC SPORTS FOR MORE INFORMATION ABOUT THIS TRIP. THERE IS STILL SPACE AVAILABLE. 269-968-8551



---

Itineraries and Cost

12 Day Trip
Cost:
$1599/diver based on double occupancy.

Itinerary:
April 26 Fly Detroit (or other US City) to Truk Lagoon

April 27: Arrive late into Truk Lagoon (Crossing International Dateline)

April 28-May 4
9 Days Accommodations at Blue Lagoon Resort
7 Days of Diving– 2 dives/day
May 5: Free day to explore island
May 6: Flight from Truk to Guam. Overnight in Guam.
May 7: Flight home. Returning into Detroit on the 7th.


16 Day Trip

Cost: $2550/diver based on double occupancy.

Itinerary
April 26 Fly Detroit (or other US City) to Truk Lagoon
April 27: Arrive late into Truk Lagoon
(Crossing International Dateline)
April 28-May 10
14 Days Accommodations at Blue Lagoon Resort
12 Days of Diving—3 dives/day
May 10 Flight to Guam with overnight stay.
May 11 Flight home. Returning into Detroit on the 11th.




---
---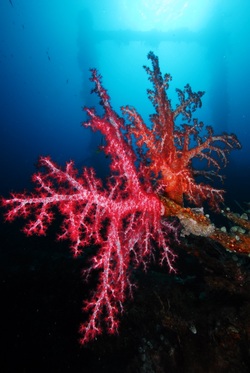 Truk Lagoon

The year was 1944 and the Pacific campaign of WWII was in full gear. A tiny group of islands known as Truk (Chuuk) was occupied by Japan. Its harbor offered perfect anchorage for the Imperial Fleet. Perfect, that is, until the U.S. found out. On an early morning in February, a 3-day attack called Operation Hailstone wiped out almost anything of value. This included 60 ships and 275 airplanes. Today, all of this wreckage lies on the ocean bottom as tombs and testament to a war long past.

One could devote a lifetime diving Truk Lagoon and not see it all. Beside limited time on the island we also have limited space here to describe all the wrecks. If you joining us, please make an effort to research both the ships and the history of Truk. It will make your experience even more special. The wreck of the Amagisan Maru, Betty Bomber, Emily Flying Boat, Gosei Maru, I-169 Submarine and Oite are not even touched on here. Below is just a sampling of what you will find on this expedition to Truk Lagoon.

Shipwreck #1: Eerie yet beautiful is how I would describe the Fujikawa Maru She is a 437ft Japanese freighter that served as an aircraft ferry, transporting new fighter planes and ammunition to outlying Pacific bases. This wreck sits upright with a gaping hole in the starboard side where the torpedo struck. The upper decks are draped in large soft corals and inhabited by marine life of all types. A family of lionfish lives on the stern and carpet anemones with families of clownfish cover her deck. Bow and stern guns are both intact, their ammunition stored under her decks. At 90 feet, the number two cargo hold contains a Japanese Zero complete with wings, propeller blades, machine guns, machine gun bullets and saki bottles.

#2: Shinkoku Maru is one of Truk Lagoon's largest wreck. She is a 500ft long Japanese tanker that sits upright. The ship is completely intact with several engine telegraphs still standing upright in the bridge area. The bow of this vessel is often obscured by clouds of tropical fish and schooling jacks as they prowl the outer areas of the ship's railing.

#3: Sankisan Maru This 380ft freighter was fully loaded with ammunition when she sank. Apparently a bomb or torpedo ignited some of the cargo, blowing out the mid-section of this ship. The forward one-third of the wreck remains intact and sits upright in 80 feet of water. The forward mast and deck area are totally overgrown with a magnificent array of soft corals. Several military trucks are lashed to the forward deck of this vessel and several more can be found in one of the cargo holds. The forward cargo still contains wooded cases of machine gun ammunition, rifle bullets and depth-charge detonators.

#4 San Francisco Maru: One of the most striking features are the three Japanese Type-95 light tanks that still remain on her deck. The Type-95 tank was manned by a crew of three. It possessed 1/2 inch armor. During "Operation Hailstone", the San Francisco Maru was damaged by dive bombers and photos show her stern on fire before she finally sank. The wreck sits upright. The cargo holds contain sea mines, torpedoes, bombs, artillery, aircraft engines, anti-tank and small arms ammunitions and many other artifacts.

#5 Hino Maru: She is a 200ft cargo vessel that was sunk close to shore in shallow water. This vessel is one of the most photographed wrecks in the lagoon because of the small bow gun mounted on the forward deck. This three-inch cannon comes to within five feet of the surface. Popular with snorkelers, the outline of the wreck can be viewed from the surface.


---