The Shipwrecks of Tobermory, Canada
July 28-30, 2017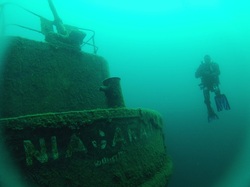 There's something charming about the Tobermory, Canada. Perhaps it's the picturesque harbor. It buzzes with excitement every morning as divers ready themselves to explore history-rich shipwrecks. Perhaps its the scattering of family owned ice cream shops, hotels and eateries. It offers an escape from the Franchise-R-Us world we live in. In Tobermory, you'll stroll down the boardwalk and pass hikers returning from a day on the Bruce Trail. You'll wish you had brought a bike up to cycle the coastline There's simply a dozen ways to escape reality in
Tobe.
Our trip focuses on diving, of course. The Fathom Five National Marine Park is home to 25 shipwrecks and some remarkable underwater geology. The water visibility is usually very good and for most people, a 7mm cold water wetsuit is sufficient.

The area's signature wreck is the Niagara II, a steel sand sucker that sits upright and intact in 45-65ft of water. You can easily swim into the wheelhouse and it shouldn't be missed. The Sweepstakes wreck is for newbies. It is a 1800 schooner that lies in only 20ft of water. Our favorite is the Arabia, a three-masted barque that rests in 120ft of water. Swim to the captain's wheel, etched bowsprit and memorial plaque that tells the story of the storm that saw her demise.


Your Accommodations: There are cheaper hotels in Tobe but nothing as convenient as the Princess Hotel. This is where you will be based out of. It is within walking distance to all our favorite restaurants, T-shirt stores and dock. Enjoy a hot breakfast prior to the dive day (included in the package) and relax in the deck in the evening to watch the sunset over Little Tub Harbor.
Water Temperatures: Although surface temperature in Tobermory can be in the mid 60's, once you hit the thermocline, the water temperature is going to be in the low 50's. A 7 mm wetsuit, hood, boots, and gloves are a must. Dry suits are a nice luxury.
Diving: Sub-Aquatic Sports has reserved the dive boat for Saturday and Sunday from 9 am to 12 pm. We will explore two different shipwrecks each day. If you're a hard-core diver, afternoon boat dives are available for an extra fee or try a beach dive. There are several worth exploring.
Passport: Gone are the days when we could simple drive across the bridge and spend time with our friendly neighbors. The law now requires that all persons entering Canada carry both proof of citizenship and proof of identity. A valid U.S. passport, passport card, or NEXUS card satisfies these requirements for U.S. citizens. Children under 16 need only present proof of U.S. citizenship.
For more information, click here.

---
Package Includes:

Hotel Accommodations at the Princess Hotel, based on double occupancy on Friday and Saturday night
Morning Dives on Saturday and Sunday
Hot breakfast on Saturday and Sunday and gratudities

13% Hotel and Dive Taxes

Sub-Aquatic Sports & Service T-shirt
Sub-Aquatic Sports & Service guide


Not Included:
Lunches and dinners, scuba equipment, transportation and the marine park fee (approx $9.80/weekend).

Space Availability: 16 max! Cost: Diver (dbl occp) $425
Vacationer (dbl occp) $229

Deposit:

A $100 non-refundable deposit is necessary to guarantee space on this trip. Final payment is due July 15. We recommend travel insurance because once final payment is made, no refunds will be given unless your space is refilled. Again the $100 deposit is non-refundable.

Want More Information
on Tobermory?

Send us an e-mail!


---




---

---