New Year's trip 2015
Photos by Rick Sass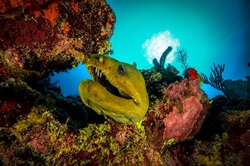 Dive Log: Roatan
December 27, 2014 - January 3, 2015
By: Kim Sass
I've become a huge fan of doing New Year's dive trips because of this Roatan vacation. After surviving the holiday craziness between Thanksgiving and Christmas, I found Roatan to be an affordable place to relax, enjoy quality family time and avoid snow for at least a few days. Plus when I stay home, New Year's Eve is usually a non-event. Most time, I fight to stay awake till midnight while watching other people celebrate in some big city on television, hardly what I call riveting TV programing. Choosing Roatan wasn't a hard choice for SASS. We've been to the island more times than I can count. It was, however, our first time staying at Turquoise Bay Resort.
I rate Turquoise Bay: 3.5 out of 5. Travel Log of New Year's Eve Trip 2015

Turquoise Bay Resort:
1. Accommodations were basic but the view from the hillside rooms is spectacular. Every morning, we enjoyed coffee from a balcony with a postcard perfect view. Most rooms are on the hillside and I'm not sure it is necessary to pay for an 'ocean view' room unless you want slightly better amenities. There are also rooms by the dive shop that lack the view but make up for in convenience. You are just steps away from the dive boats. If you stay in a hillside room, plan on climbing steps multiple times a day. To me, it was a small price to pay. Our room had a sitting area, ample hot water showers, efficient air conditioning and a TV with plenty of movie options. Wi-Fi is available throughout the resort but we found service to be spotty.
2. The dining and bar staff was friendly and attentive. All meals are served buffet style but there was always someone on hand to make you made-to-order eggs/omelets in the morning and a local specialty dish at night. These are not gourmet meals but are presented well, with lots of homemade dishes that satisfied even our vegetarian and gluten free travelers. I give the staff and the manager, Jesus, high scores for the service!
3. The beach was beautiful with kayaks and a paddle board available to explore the local mangroves. Off the beach is a long dock with a sitting area. This type of dock design is common on Roatan because you usually can escape no-see-ums when away from the sand. However, I rarely saw people take advantage of this picturesque area, maybe because the bugs weren't bad and/or I was diving most of the time. This resort touts of having the longest private beach on the island and they maintain it with great effort. Daily, I saw someone carrying wheelbarrows full of sand to low spots that had washed away with the tide.
4. Resort Layout: Turquoise Bay offers something for both divers and vacationers. It is well laid out for divers. The locker room is open during the day. You are assigned an area on the first day to keep all your gear. It is small but adequate. This room is locked after the last dive of the day. Descending down a flight of stairs and you will arrive on a long boat dock. This area easily holds 3 boats at a time for loading. Rinse tanks and drying racks for wetsuits are conveniently located as well as several fresh water showers. There are no heads on the boat but since the dive sites are super close, you frequently come in to shore between dives and there is a bathroom easily accessible. We purchased the 3 dives/day plus 1 night dive package; each dive was limited to 1 hour. If you want significant bottom time, you will get it at Turquoise Bay Resort. For those wanting a more relaxed schedule, they skipped the single tank afternoon dive and relaxed poolside or at the beach. The main desk sets up tours which for us included a great zip line experience, shark dive and a sightseeing tour. Evening entertainment was offered throughout the week and this resort did an outstanding job to make New Year's Eve special.

What could be better:
1. The dive boats needed replacing badly. This problem has already been fixed. Two new boats were coming in, just unfortunately after our group had left. The boat staff was awesome. They set up your tank each day though I strongly suggest checking their work. We had a tank come loose during the dive several times because the BC cam strap wasn't treaded correctly. This is where good training comes in because it wasn't a big problem for the diver.
2. I wasn't a fan of the Dive Store Manager. She was stressed and short with our group. We voiced our concerns. She wrote a letter of apology and so do the very competent hotel manager, Jesus. That is all I will say on this matter except again, the rest of the staff was great.
3. No-see-ums are a problem no matter where you stay on Roatan. You must bring bug spray...and use. I forgot to apply it before kayaking around the mangroves and came back looking like I had come down with chickenpox. Despite the biting bugs, take the kayaks out for a spin. The mangroves are close by and home to a flock of frigates and a few egrets. Very cool.
4. Fish or lack of them. After diving most areas of this island, I was surprised at the lack of fish at Turquoise Bay. On the positive, the reefs are probably the most spectacular on the island. I saw many kinds of fish just never in quantity. Our dive master said the reefs had been quiet for a couple weeks. True? Why? Not sure. What this dive area excels at is big friendly green morays. They like to eat lionfish, something you'll also see a lot of. If you're a lionfish-hater, you will blame them for the lack of fish here. I, personally, will not go that far... and yes, Haters are Gonna Hate. If you don't like watching lionfish getting killed then you need to say something to the dive masters. The staff did ask permission at the beginning of the trip before killing them. Crabs rule the area too. It was almost crazy how many I saw on one single dive. The infrequent cast members were angelfish, parrotfish, arrow crabs, turtles, rays and sadly no squid. My fondest memories of CoCo View resort (other side of the island) was the best squid encounters.

---



Roatan Trip 2012
Photos by Rick Sass