Where Are You Spending New Year's Eve?
Roatan, Honduras
December 27, 2014 - January 3, 2015

Start the New Year off right! Celebrate it in Roatan, the largest of the Bay Islands off the coast of Honduras. It's an island rich in history, where British pirates sailed, Spanish conquistadores invaded and Paya, Mayan, Inca and Caribe Indians lived.

It doesn't take much imagination to picture Spanish cargo vessels sailing past Roatan loaded with gold from the New World on their way home. European pirates like Henry Morgan, Coxen, Morris and Van Horn used Roatan as a base for raiding these ships.

We doubt you'll find any sunken treasures on this trip but you will come back with treasured memories.


---
Package Includes

· 8 Days 7 Nights at Turquoise Bay Dive and Beach Resort based on double occupancy, garden view rooms


· All meals
· 6 days of 3 tank boat dives
· 1 night dive
· Non-alcoholic drinks with meals
· Internet access—one hour free
· Unlimited use of kayak and pedal boats
· Transfers to and from airport
· Welcome drink
· 19% hotel taxes
· 25% off Nitrox certification class
· Free pool review prior to trip
· SASS T-shirt and group leader



---

Cost

Diver: $1299
Non-diver $1199



Payment: A $300 non-refundable deposit is necessary to guarantee space on this trip. Final payment is due no later than October 25. The price above is per person. Prices are based on current rates and are subject to change. Prices may also change due to government taxes, hotel fees, etc.

A valid passport is required for traveling to Roatan.
For complete rules, please go to www.travel.gov.



---
---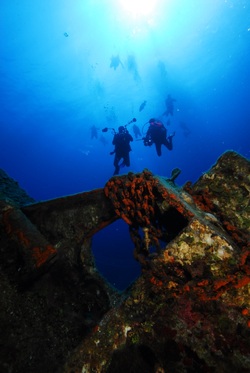 Welcome to Roatan, the largest of the Bay Islands in Honduras. Discover an island with authentic Caribbean and Latin American lifestyles and warm, friendly islanders. This trip is based on the island's northeast shore at Turquoise Bay Dive and Beach Resort. It is the only dive resort in the area so you're in for uncrowded, pristine dive sites!

The resort is set on a hillside so the view of the ocean is spectacular. The resort also sits in a protected bay so the water is calm and perfect for swimming. Beach lovers will enjoy the private, tranquil, 500 ft. white-sand beach. If you're into ecology, grab a kayak and cruise around the mangroves. You'll see a nursery of juvenile lionfish, grouper and more.

One of the best thing about Turquoise Bay is its service. It is known for giving individual and personal service that only a small dive resort can offer. The friendly local staff takes pride in getting to know guests and making them feel at home. The resort has received many awards from travel magazines and journals for this very reason.

All meals are included at Turquoise Bay Resort. Food is fresh and healthy with a great variety of the local flavors of Roatan as well as international cuisine. Order from an a la carte menu or enjoy daily breakfast, lunch and dinners buffet-style.

Of course, it's the diving we are really after. Roatan is a top rated dive destination and attracted more than a million visitors last year. As far as Roatan resorts go, Turquoise Bay is the only dive resort in the area so you'll enjoy a week of uncrowded, pristine sites. The north side offers the largest variety of reef topography on the island. Explore sloping plateaus, perfect for spotting macro life, sheer walls with large soft corals and barrel sponges, wreck dives abundant with life, crevices, trenches, overhangs and cavern systems. The two most popular dive sites are Underground and Dolphin's Den.

Roatan is surrounded by the world's second largest barrier reef and is one of the healthiest in the Caribbean due to the Roatan Marine Park and the local dive community that encourages conservative diving practices. In total 19 dives are included in your package, six days of 3 tank boat dives and 1 night boat dive. Boat rides are generally short so surface intervals are done at the resort.

Sub-Aquatic Sports carefully chose Turquoise Bay as our New Year's trip location because we realize that non-diving family and friends may want to join you. While you're underwater, they can play on the beach, relax in the pool or sunbathe on the terrace overlooking the Caribbean Sea. Pedal boats and jet skis can also be rented. We suggest doing the Ziplining and island tours.

However, Turquoise Bay is not like the west-end dive resorts where there's tons of bars and nightlife. This is a decidedly quieter trip. Local talent will come in the evenings throughout the week for entertainment and of course, the resort has special plans for the New Year's Eve celebration, but for the most part, this is your vacation to relax and get away from the stresses of everyday life….and start the New Year off right!


---