Where Are You Spending New Year's Eve?
Roatan, Honduras
December 29th, 2018-January 5, 2019

Start the New Year off right! Celebrate it in Roatan, the largest of the Bay Islands off the coast of Honduras. It's an island rich in history, where British pirates sailed, Spanish conquistadors invaded and Paya, Mayan, Inca and Caribe Indians lived.

It doesn't take much imagination to picture Spanish cargo vessels sailing past Roatan loaded with gold from the New World on their way home. European pirates like Henry Morgan, Coxen, Morris and Van Horn used Roatan as a base for raiding these ships.

We doubt you'll find any sunken treasures on this trip but you will come back with treasured memories.


---
Package Includes

8 Days / 7 Nights at CoCo View based on double occupancy, garden view rooms

All meals (breakfast to order, full lunch and dinner buffets)

One evening BBQ and one picnic on private cay, weather permitting

6 days of boat dives (up to 4 boat dives/day)

Unlimited shore diving

19% hotel tax

Unlimited use of kayaks, hot tub, exercise room

Welcome drink

Transfers to and from airport

$40 off Nitrox certification class

Free pool session to review skills and check out dive gear prior to trip

SASS gift and group leader

Pre-trip informational meeting and post-trip photo party.


---

Reserve your space now!


Cost

Oceanfront Hotel Room
Diver: $1579
Non-diver: $1479

Over the Water Cabana
or Bungalow
Diver: $1639
Non-diver: $1539

Single Supplement: Add $249/person for Oceanfront Room and add $479/person for Cabanas or Bungalows


Payment: A $300 non-refundable deposit is necessary to guarantee space on this trip. Final payment is due no later than October 10. The price above is per person based on double occupancy. Prices may change due to increases in government taxes, hotel fees, etc.

Passport: A valid passport is required for traveling to Roatan. For complete rules, please go to www.travel.gov.

Optional Airfare: $1283.94 This is a group block of seats. The advantage is you only need a $100 nonrefundable deposit to guarantee a seat with the balance due August 20. So if you need to cancel, you're not out a lot of money. Plus we are all traveling together so airlines will usually hold the plane for us on tight connections. The disadvantage is that this may not be the cheapest flight so feel free to price around and book your own air ticket. Just let us know your plans.

December 29th
AA2708 Detroit to Miami 625A 931A
AA1517 Miami to Roatan 1110A 1232P

January 5
AA1518 Roatan to Miami 122P 432P
AA2537 Miami to Detroit 730P 1035P

Travel Insurance: Things happen so we always recommend you purchase Travel Insurance. We can offer you a plan at 8% of the total trip cost thru TravelMate or go to sites like Dan.org, DiveAssure.com or insuremytrip.com to compare various plans.


---
---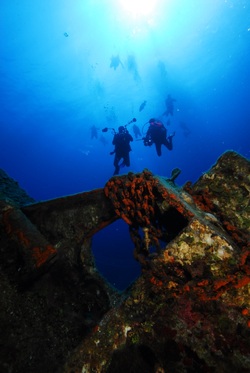 Sub-Aquatic Sports is returning to a longtime favorite resort, CoCoView; we describe it as 'rustically charming.' This place is a far cry from the franchise properties like Sandals or Beaches. There are no mega pools, no mega restaurant choices and no mega crowds. Instead, you'll find a warm, family-run resort with good food, comfortable accommodations and the best diving on the island.

Situated on Roatan's south shore, Coco View Resort is perched on the edge of the world's second largest coral reef. The diving is spectacular and convenient with a wall and shipwreck right off your hotel door. Take a short boat ride and you'll dive on a variety of beautiful dive sites. Coco View Resort is famous for their 24/7 dive and snorkel opportunities! Shore diving is available whenever you desire! Grab a tank & go!

Choose your accommodations. There are spacious oceanfront rooms and exotic over-the-water bungalows and cabanas; all are air conditioned. The most affordable are the 12 oceanfront rooms. These are conveniently located by the Clubhouse and the dive docks. Twelve Cabanas are partially built over the water. Each room has French doors that enter to your private balcony. What a perfect place to watch the sunsets. The Bungalows are considered to be the most private and romantic.
There are only four units and all are built completely over the water . These also have private patios for enjoying some quality quiet time.

The social center of the resort is the Clubhouse. Here you'll find the inside dining room, bar and outside dining decks. Breakfast includes made-to-order eggs or omelets and traditional breakfast favorites like bacon, pancakes, and waffles. Lunch is ready for you at noon with a variety of tasty entrée, sandwich fixings, soups, salads, and fruit selections change daily. Traditional Honduran fare of red beans and rice are always offered and a favorite. Dinner is served buffet style, dinner is plentiful and hardy, consisting of a fresh salad bar, a selection of at least two delicious entrees, vegetables, and, of course, dessert again.

The Clubhouse is also the place to hang at after diving. Enjoy a drink and conversation with fellow divers. New Year's Eve celebration is here, the perfect place to bring in 2019! If you're looking for high energy dancing and crowds, you'll be disappointed. This will be a quieter affair, toasting the New Year under the stars, listening to some Calypso music and challenging a fellow diver to a game of pool or ping pong.

Free seminar on island history and a free buoyancy clinic are offered at the Clubhouse during the week. Some nights you will also be entertained by local musicians and dancers. Weather permitting, there is a BBQ on a private cay.

If you wish to explore the rest of Roatan, we recommend the Zip lining, the Botanical Garden, Dolphin Encounter, Eco Tours by Tim, Deep Sea or Flats Fishing, Horseback Riding on the beach or check out the Iguana Hideaway. This week will be as full or as relaxing as you wish it to be.

---