Refresher Scuba Class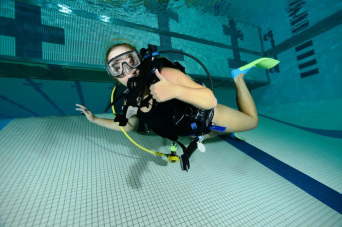 We'll have you back in the water in no time!
There are two formats for taking a refresher course.
Private Refresher Class – 1 session, 1-2 hours of pool time
Open Water Review – Join a Scuba Certification class and participate in as many lectures and pool sessions as you want.
---
Private/Semi Private Refresher Class
Next Refresher Class: Feb 19, 2017
Kalamazoo College at 7:30pm


Semi-Private Refresher Class Description:
This class consists of a one-on-one private lesson with our dive instructor. During the class, you will review and practice gear assembly, retrieval and purging the regulator, mask clearing, rescue tows, out of air and share air emergencies, buoyancy control and proper weighting out, plus dive table or computer review.

Cost: $80
Scuba equipment is provided. Please bring your own snorkeling equipment. If you wish to be weighted out, bring the wet suit you intend on wearing when diving.

Schedule:
This is a private/semi-private class so we will work around your schedule. The class takes approximately 1 ½ - 2 hours to complete. We reserve the right to add other students into the refresher class but generally, the class size is 1 instructor to 1-3 students.

Date/Location: Once we've received payment for the Refresher Class, you will be contacted via e-mail with class dates, location and time options. You will be given several options but if nothing fits your schedule, we will refund your money 100%.


Extended Refresher: Open Water Review


Open Water Review Description:
If it has been a number of years since you've dove, consider taking this comprehensive class. You'll have the opportunity and the flexibility of sitting through an entire scuba class again. Our basic scuba classes consist of 6-8 sessions but you decide how many sessions to attend. Pool work consists of all the skills in Private Refresher class plus we'll practice a series of drills that will increase your comfort level in the water. Classroom lectures include talks on the environment (tides, waves, currents) marine life, physiology (ear clearing, decompression sickness), equipment and more.

Cost: $149
Scuba equipment is provided. Please bring your own snorkeling equipment. This class does not include open water training.

Schedule: Choose ONE of the regularly scheduled Scuba Diver classes and attend as many lectures and pool work as you want. Dives at Gull Lake are not included but can be added for an additional $80 plus any rental gear needed. Call directly to schedule at 269-968-8551.