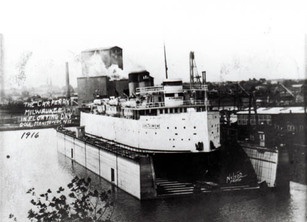 Milwaukee Shipwreck Weekend
September 11-13

There are several unique shipwrecks to explore in the area. Signature wrecks include the Prins Willem V, resting in 80ft of water. She was destined to be underwater. In 1940, before even completely built, the Netherlands army scuttled the ship to block the New Waterway River at Rotterdam from Germans. Once recovered and reconditioned, she was used extensively in the St. Lawrence Seaway. In 1954, while in the Milwaukee area, she collided with not one but two ships and once again sits underwater. 'Willie' is the most popular dive in the area. The Car Ferry Milwaukee is another popular dive site. She is a 318ft steel railroad car ferry that was loaded with 27 box cars and 52 passengers. She sank during a storm. Theory has it that the rail cars became loose during the gale and crashed through her Seagate, allowing water to come over the stern. All 52 lives on board were lost. The Car Ferry has plenty of things to explore including railcars, automobiles and bath tubs. Penetration is possible for the trained and experienced diver.

Package includes: Hotel accommodations from Friday to Sunday (price based on double occupancy), four shipwreck dives (2-tank dives Saturday and Sunday from 8am-12noon), hot breakfast on Saturday and Sunday, 13% taxes (hotel and dive taxes), Sub-Aquatic Sports & Service T-shirt, Sub-Aquatic Sports & Service guide.

Diver: $409 Non-diver $209

We found this video on YouTube of the Trins Willem. Check it out.

---