| | |
| --- | --- |
| Master Diver Certification | |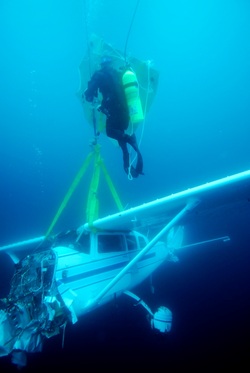 Are you ready for a real dive challenge? Take the NAUI Master Diver course. This is not your simple, go-through-the-motions kind of class. Your world is going to be opened up to a wide array of dive possibilities. Master Diver course is a stand-alone class or the next step to becoming a technical diver or instructor.
Topics and Dives Includes
1. Limited Visibility Dive:
If you're from Michigan, you know limited visibility but we're taking it to the extreme which is what can happen during cavern and cave dives or hunting for artifacts. You will practice following a line with a blacked out mask while in search of an object.
2. Lift Bags and Reels:
You will practice using lift bags and reels. Learn about and use signal bags and reels which are important in the tech dive world for communication. For underwater salvage, they are your primary tool for success.
3. Search and Light Salvage:
Have you ever been asked to find an object that a friend lost underwater? You will learn how to perform search patterns to locate an object and then salvage it with a lift bag. There is a safe way to use a lift bag and there are many wrong ways to use a lift bag. You'll learn the right way.
4. Pony Bottle:
This training will prepare you for an upcoming deep dive. Learn when to use and how to sling a pony bottle system. Practice making tank switches underwater and readjust buoyancy and trim while carrying this extra cylinder.
5. Deep Dive to 110ft.
at Lake 16 in Martin doing a simulated decompression dive and pony bottle switch.
6. Rescue & Emergency Procedures:
Simulate a full blown rescue. Locate the victim using surface references, dive down to retrieve them then start CPR (simulated) and emergency response procedures.
7. Compass Navigation:
Practice underwater pattern work like triangle and rectangles.
8. Underwater Mapping: Take what you've practiced with the compass work and survey a site.
2018 Schedule:
Theory Work:
Option #1: Anytime with the Online Course
Option #2: Classroom lectures May 8 -31 (Tue/Thurs) from 6-9p
Dives Schedule:
Option #1: June 2 - 3 dives at Gull Lake
June 3 - 1 dive at Lake 16 and 2 dives at Gull Lake
June 9 - 2 dives on the Ironsides Shipwreck off of Grand Haven - boat charter cost additional.
* Any missed dives will incur a make-up private training cost of $125/session
Option #2: Private training* and/or on a SASS dive trip.
Class Cost: $399
Includes all instruction, use of all specialty equipment (lift bags, reels, compass, pony bottles,, etc.) NAUI registration, and certification fees. Class cost does not include NAUI Master Diver textbook, Gull Lake parking fees. A $50 non-refundable deposit is necessary to guarantee space in this class. Final payment is due one week prior to start date.
Prerequisite:
You must have an Advance Diver certification (any agency) or equivalent dive experience (dive deeper than 60ft, a night dive, and some compass skill) Please call Rick at SASS to determine if you can comp out of Advance class and move directly to Master Diver class. Important: Please have descent buoyancy control before starting this class.
---