Manatee & More Florida Adventure: March 5-11, 2017
Are you looking for a fun and affordable dive adventure this winter? Then sign up for the Manatee and More trip to Florida in March! Sub-Aquatic Sports has planned a week of unique dive experiences that will fill the pages of your logbook.

Buy Now!
---
Day 1: Check into hotel in Crystal River Area
On Sunday, check into the to hotel. It is conveniently located the manatees, Rainbow River and the springs of Kings Bay. This bay, in Crystal River, is one of the largest aquifers in the state and home to more than 400 West Indian Manatees that migrate each year to the warmth of the springs. When you're not playing in the water, play some golf or hike the wildlife preserves.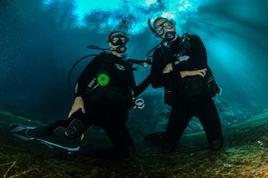 Day 2: Dive Devil's Den Devil's Den is a privately owned grotto for scuba divers. You'll visit one of North America's most prehistoric places. It is an underground spring inside a dry cave that has been home to many extinct animal fossils dating back to the Pleistocene Age. Some are displayed at The University of Florida's Museum of Natural History.

The Den is located in Williston, Florida, about a 45 minute drive from the hotel. On cold winter mornings you can see steam, like smoke, rising from the chimney opening. Thus, the early settlers gave the name Devil's Den. With crystal clear water, year round 72 degree water temperatures, ancient rock formations with stalactites, fossil beds dating back 33 million years, and much more, you're guaranteed to leave with memories that will last a lifetime!


---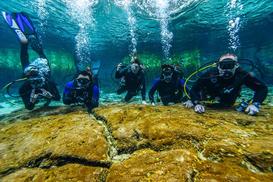 Day 3: Rainbow River and Sunset Kayak
Grab a scuba tank and drift down Rainbow River. This is a super simple dive with depths ranging from 10-25ft. The winding river is actually 5.7 miles long but you'll be taken upstream just far enough to make a relaxing cruise back to Rainbow Springs State Park.

Each day, the spring produces 400-600 million gallons of crystalline water. You'll swim past caves, rock crevices and sand boils. There is abundant fish and wildlife along the way. Look for shark teeth, turtles and otters. Archaeological evidence indicates that the waters of The Rainbow River have attracted and sustained human inhabitants for over 10,000 years.

---
Sunset Cruise! At 5pm, the group will meet up and grab some kayaks and paddle boards. We will explore the surrounding preserve land and hopefully be treated with a beautiful sunset. Choose between single kayaks, tandem kayaks and paddle boards. Please make your request when booking the trip and we will make every effort to reserve the watercraft of your choice.

---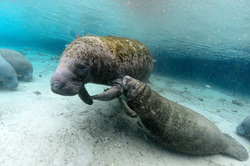 Day 4: Snorkel with Manatees
Rise and Shine! It's an early morning departure to see the manatees. They come to this area during the winter in search of warmer water and early mornings offer the best success. Lucky for us, we are located very close to where they like to hang out. It is a very short boat ride to the prime locations. The water is typically clear and you'll likely see moms with calves. In the past, there have been 4-40 manatees on this snorkel.

After the snorkel, shower and check out of the hotel to head to Orlando. The hotel we've choosen is located on International Drive, convenient to Walt Disney World, SeaWorld, Universal Studios as well as great shopping malls. Enjoy scheduled shuttle service to Universal Studios, Sea World and Disney World.

Rooms have 2 double beds, separate living area with pull out couch, full kitchen and free high-speed Internet access. Enjoy complimentary hot breakfast daily and join us Friday evenings for social hour.


---
Day 5: Dive in Epcot's Dive Quest!
The afternoon is at leisure but at 6:15pm, be prepared for an amazing dive at Epcot's Living Sea Aquarium. Everyone will meet at the entrance of the park, then take a behind-the-scene tour of 'The Sea with Nemo & Friends" pavilion. Learn what it takes to keep a massive, 5.7 million gallon aquarium flourishing. Side note, until 2005 this was the largest saltwater tank in the world. The whole tour takes about 3 hours of which 40 minutes are spent underwater. There are over 6,000 sea creatures in the tank with you including sea turtles, angelfish, eagle rays and sharks. With so much to see, you might not even realize that you too are on exhibit. While you're diving, land lovers on the other side of the glass are enjoying dinner at the attached restaurant. If you bring family and friends along on this trip, be sure to have them eat dinner at this restaurant and take pictures of you in the tank. Please note, only 12 divers are allowed in the tank. Because of this, please book early to secure your space. After the first 12 spaces are filled, the price goes up by $85 and the dive time changes.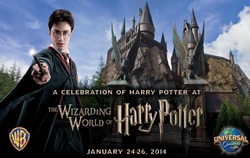 Day 6: Free day in Orlando
If you can't find something to do in Orlando, you're not trying. Here's just a short list: Disney World, Epcot, Universal Studios, SeaWorld, Flying Trapeze classes, Wet 'n Wild, Discovery Cove, Blue Man Group, Arabian Nights Dinner show, Central Florida Zoo and Botanical Gardens, Cirque du Soleil, Gatorland, Ripley's Believe It or Not, the Titanic museum, B-52 Memorial Park and tons of art galleries. Want more diving? Talk to Rob about heading to Venice for a beach dive. There's tons of shark teeth out there, including megalodon teeth.

---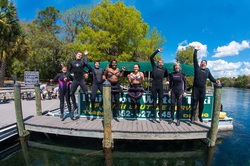 Day 7: Check out of hotel and head home.
Sad but true, it's time to head home and back to reality.
Don't forget to share your photos to Sub-Aquatic Sport & Service's Facebook page.
It's a great way to relive all the fun!






---
Dive Package Includes

3 Nights Accommodations at Crystal River w/breakfast

3 Nights Accommodations in Orlando w/breakfasts

Charter boat w/ Manatee Snorkel Dives at Crystal River

Dive in Epcot's 5.6 Million Gallon Aquarium

1-2 Dives at Devil's Den with Entrance Fees

1 Boat Dive on Rainbow River

All scuba gear for Epcot Dive

Sunset Kayaking/Paddle board tour

All Hotel Taxes of 12.5% and Dive Taxes

All air fills and scuba tank rentals

Sub-Aquatic Sports T-shirt and Guide/Instructor


Snorkel Package Includes

3 Nights Accommodations at Crystal River w/breakfast

3 Nights Accommodations in Orlando w/breakfasts

Charter boat w/ Manatee Snorkel Dives at Crystal River

1 Boat Snorkel at Rainbow River

Sunset Kayaking/Paddle board tour

All Hotel Taxes of 12.5% and Charter boat taxes

Sub-Aquatic Sports T-shirt and Guide


Land Lover Package Includes

3 Nights Accommodations at Crystal River w/breakfast

3 Nights Accommodations in Orlando w/ breakfasts

All Hotel Taxes of 12.5%


Diver Cost:

Double Occupancy: $899

Triple Occupancy: $779

Quad Occupancy: $719

Single Occupancy: $1256

Snorkel Package:

Double Occupancy: $699

Triple Occupancy: $579

Quad Occupancy: $519

Single Occupancy: $1056

Land Lover Package:

Double Occupancy: $425

Triple Occupancy: $305

Quad Occupancy: $245

A $100 non-refundable deposit is necessary to guarantee space on this trip. Final payment is due no later than February 15. Payments after that date are subject to a $20 late fee. The first 12 divers who sign up with a deposit are guaranteed space for the Disney dive. After that point, there may be a $85 surcharge and change of schedule. Upon request, SASS will assist in finding you a roommate(s) and/or carpool rides to Florida but cannot guarantee this. There will a pre-trip informational meeting at Sub-Aquatic Sports on Saturday, February 13 at 11am. Travel Insurance is recommended since this trip is non-refundable.

$79 Scuba Rental Special!

Students will receive a special rental rate for this trip. This includes a 10-day rental for a 7mm wetsuit, BC vest, regulator with dive computer, hood and dive weights. This is a savings of over $200!! Rental pick up is on Friday, March 4 and return is on Monday, March 14. There is an additional $25/day automatic charge on your credit card for any additional days.