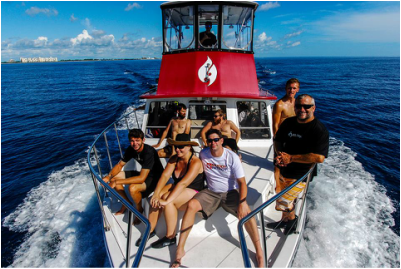 Lobster Hunt,
Grouper Aggregation
Reefs & Shipwrecks
Shark Feed

August6-12-2017

Diver Rate: $899!



---
What's your perfect summer?

Relaxing on the beach?
Playing in the ocean?
Logging some memorable dives?

It all sounds great but does it work when you're on a budget? The answer is yes, if you come on this trip to Florida. Sub-Aquatic Sports is headed to Jupiter/Palm Beach for a week of diving.

This is what you'll see!

Giant Goliath Grouper Aggregation

Lobster Season
Lionfish Hunt
Shark & Shipwrecks
Friendly Sea Turtles
Assorted Moray Eels

...and More!

Florida Diving

The waters off of Florida's Gold Coast (Jupiter to Palm Beach) offer some of the most diverse marine life in the world. In the spring, sea turtles hatch on the beach. In late summer, Goliath grouper aggregation and spawning occur. In winter, you'll see a Lemon Shark migration. For macro lovers, Blue Heron bridge is a treasure, year around.

If that isn't enough, manta rays, green moray eels, Southern sting rays, Caribbean Reef sharks, Nurse Sharks, Hammerheads, and the occasional Whale Shark have been seen here.

So what does August have in store for you? Well, there's actually many highlights on this trip.

The first is lobster season. We arrive on the first full week of the season so pickin's should be good. While you're enjoying dives on the reefs and shipwrecks, keep and eye out for 'bugs'. They like to hide inside or under coral crevices and ledges. Caribbean spiny lobsters (the focus of our catch) have no pinching claws but do have rows of spines that cover it's outer shell. This works well for protection….unless it's a diver who's wearing gloves. Bring a bag, a pair of gloves and try your luck at catching lobsters. During our pre-trip informational meeting, we'll have a mini-seminar on lobster hunting techniques. This will include where to get the fishing license, how to measure a lobster to make sure it's of legal size and how to check for eggs. We will also offer discounts on hunting gear such as bags, tickle sticks and carapace measurer.

The second highlight is the aggregation of Goliath Grouper. Starting in August and going through September, these giant sea bass come to Palm Beach in search of love. Goliath grouper are the largest of the sea bass family, reaching 8ft in length and weighing 800lbs. Some of these guys can be as old as 37 yrs. but sexual maturity occurs around 5-7 years.

Before a full moon, you'll start to see courtship behaviors and color pattern changes. The front part of a male may turn a pale color, contrasting sharply with the darker back half. Females don't change colors. Males may also emit a low frequency booming sound during spawning; this is audible up to 100ft. FYI: They also emit this sound when you're 'in their space'. It's very effective. However, for the most part, you'll find them very friendly.

Because goliath grouper are top-level predators, they have no natural fear and this friendly behavior has made them easy targets for spear fisherman. Luckily, Florida has put restrictions of spearfishing, thus why we see so many grouper now verses the 1990's.

The third is a Lionfish Hunt. When hunting for lobsters, you inevitably see lots of Lionfish. They make for good eating and removing from the reef is good for the ecosystem. Lionfish are not indigenous to Florida and their invasion has been a problem. Bring a paralyzing tipped spear and help us remove them. Note: Lionfish have venous spines so we will show you how to safely spear them.

---

What's Included:

This trip includes 6 night's accommodations and five days of diving, 10 dives total. As always, Sub-Aquatic Sports will have a group leader on the trip to make sure everything goes well. You'll also have a SASS t-shirt as a souvenir along with a cooler full of lobsters and lionfish (hopefully).

Accommodations are close by on the intercostal. Enjoy the pool and evening walks on the boardwalk. This hotel is moderately priced and conveniently located to the airport for those flying in for this trip. Popular attractions and the beach are an easy drive away. This hotel has a sundeck, outdoor heated pool, free Wi-Fi internet access and hotel breakfast daily.

Hotel accommodations are from Sunday night to Saturday morning. Diving is from Monday-Friday from 8am-1pm. Tank rentals (air) and taxes are also included in this package. Nitrox is available for $60 more for the week of diving. Also keep in mind that you'll need a Florida saltwater fishing license and lobster stamp which is approximately $22. These can easily be purchased and printed out at the

FWC Website

. Finally, there are some 'tools of the trade' which will increase your success rate for catching lobsters. These include a snare, a lobster hotel (bag) and a measuring gauge. Please feel free to contact us on these items. Again, this information will be discussed at the information meeting prior to the trip.

Ask Us About Adding Scallop Diving to This Trip!

---

Package Costs
Diver Vacationer

Double Occupancy $899 $379
Triple Occupancy $799 $329
Quad Occupancy $729 $215
Single Occupancy $1239
A $200 non-refundable deposit is necessary to guarantee space on this trip. Final payment is due no later than July 6th. SASS will try to find you a roommate but we cannot guarantee it. We strongly suggest Travel Insurance.

Includes:
· 6 Nights Hotel Accommodations
· 5 Dive Days of 2 Dives/Day
· All Air Tank Rentals
· Hotel Taxes (12.5%) Dive Taxes (6%)
· SASS T-shirt
· Informational Meeting with Mini-Seminar on Lobster Catching and Lionfish Spearing Technique s on July 10, at 6:30pm
· Group leader available throughout trip for dive and travel questions plus he will organizes optional group dinners and entertainment.
· Discount on Nitrox Certification Class of $99 plus text. Regular price is $139.



---
Buy now by putting a $200 non-refundable deposit on this trip.
Full Payment is due no later than July 7th, 2017 and must be made by phone.