Essential Dive Package
Is This the Right Package for You?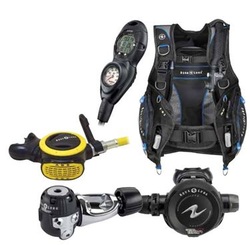 Don't Get us Wrong.... We LOVE this package but
Sub-Aquatic Sports & Service isn't about making the quick sale.
We want to make sure this is the right package for you because if
you buy right, you buy once.
The Essential Package Only $979
Retail Price $1410!
In our option, this package is good for:

New divers who aren't sure where they're headed in this sport.
Midwest divers who enjoy our local lakes during the summer and an occasional shallow Great Lakes shipwreck but not deeper, cold water shipwrecks and certainly not ice dives.
People on a budget but who won't settle for junk; they want great quality, great warranty and great service.
Warm water divers who explore shallow to mid-range depths.

---
---
Aqua Lung Titan Regulator
The Titan regulator continues to be the mainstay of the dive industry and in many rental fleets. It offers comfortable, easy breathing at an affordable price. The Titan is rugged and easy to maintain. It is popular worldwide so if you're a traveler, there should be no problem finding parts and service for this system.
Regular Price: $365.00


ABS Octopus
This octopus is ideally designed for shared-air situations with the unique 120° angle between hose and mouthpiece: This design works well for either right hand or left hand positions. No more sharp bends in the hose or upside down octopuses in the mouth. Stats: The ABS octo exceeds CE breathing requirements for regulators. Regular Price $150.00


Zoop Dive Computer
The Suunto Zoop is an ideal choice for sport divers looking for an easy-to-use computer at an affordable price. It can be used with both air and nitrox and is designed to give the specifics of any diving situation, including decompression, at a glance. The Zoop can be downloaded to a PC for those of us lazy at logging dives. Regular Price $425.00


Pro HD Vest
This jacket style BC is packed with features, style and durability at an affordable price. Ready for the list: weight integration pockets, proprietary backpack with built in traction pad to reduce tank slippage, built in carrying handle, two large pockets, scooped octo-pocket, scooped instrument pocket, stainless steel flat d-rings to attach accessories, grommets for knife, adjustable waistband, multiple dump valves, etc.
Regular Price $495.00

Titan Regulator $365.00
ABS Octopus Regulator $150.00
Zoop Dive Computer $425.00
Pro HD Vest $495.00
If purchased separately, $1435.00

Essential Package $979

Save $456.00
---