Ocean: A body of water occupying about two-thirds of a world ....made for man ... who has no gills.
~ Ambrose Bierce

Lucky for us, scuba has opened up the possibilities of ocean exploration even without unsightly gills. There are two things that Sub-Aquatic Sports loves... diving and travel. If you're the same, come with us! For over 37 years, we have set up adventures around the world, (literally, around the world!)

---
2017-2018 Dive Adventures!

---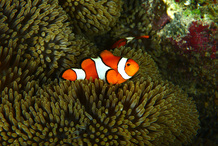 ---
---
Florida's Manatee & More Adventure: March 5-11, 2017

Are you looking for a fun and affordable vacation this winter? Then sign up for the Manatee and More trip to Florida. You'll split the week, staying first in Crystal River to play with manatees, cruise down Rainbow River and dive Devil's Den. Then you'll driving 1 1/2 hours to Orlando, staying close to all the theme parks. Here, you'll dive in Epcot's Living Seas. This is a 5.6 million gallon aquarium that's home to over 6000 sea creatures! It's the only place where we can GUARANTEE that you'll see turtles, sharks, and rays.

Diver rate is $899

Click here for more information!
---
Spring Break in Curacao April 2-8, 2017 Everyone needs a little Vitamin Sea, especially toward the end of the winter. Now is the time to plan next Spring Break and this Curacao is just what a diver needs. Welcome to Sunscape Curacao Resort and Spa. For 7 days/6 nights, you'll enjoy this all inclusive resort with all meals, alcohol included, 10 boat dives, unlimited beach dives, use of all non-motorized water sport equipment, $200/room resort credit, SASS guide and t-shirt. Diver: $1699, Non-diver: $1240
Click here for more information
---
2 Trips for Megalodon Teeth: July 22-27, 2017 and July 27-Aug. 1, 2017

There are hidden treasures off the shore of North Carolina. Located some 20 miles out, a series of ledges can be found littered with prehistoric Megalodon teeth. Your mission, if you choose to accept it, is to find these teeth. For the past several years, SASS has travelled to the area in search of fossils. We have never come back empty handed. Now it's your turn to be a Treasure Hunter. Join us for a long weekend and a truly unique dive experience. But, we warned you….. this is a very addictive trip. People sign up for this trip again and again, always in hopes of finding that elusive 7 inch fossilized tooth. It's said to be worth thousands of dollars!

Click here for more information.
---
Tobermory, Cananda: July 28-30, 2017

Tobermory is one of our favorite summer getaways. A beginning diver can enjoy easy dives on the

Sweepstakes and Tugs

in only 20 ft. of water while the advance diver will enjoy the

Arabia

at 110 ft. With dozens of wrecks scattered on the bottom, there is something for any skill level of diver to enjoy. We know Tobermory just about as well as any person can. For over 37 years, Sub-Aquatic Sports has lead groups to this picturesque bay. Morning boat dives on planned on Saturday and Sunday. Accommodations are at the picture-perfect Prince Hotel. Made-to-order breakfasts are also included as well as the always-popular SASS t-shirt and guide.

Click here for more inforamtion
---
Affordable Florida: August 6-12, 2017

What's your perfect summer? Relaxing on the beach? Playing in the ocean? Logging some memorable dives? It all sounds great but does it work when you're on a budget? The answer is yes, if you come on this trip to Florida. Sub-Aquatic Sports is headed to Jupiter/Palm Beach for a week of diving.

This is what you'll see!

Giant Goliath Grouper in Love!
Lobster Season
Lionfish Hunt
Shark & Shipwrecks
Friendly Sea Turtles
Assorted Moray Eels

Click here for more information!
---
| | |
| --- | --- |
| | Beautiful St. Lucia! October 21-28, 2017​Few Caribbean islands can surpass St. Lucia for beauty. Couples flock to the island for weddings and romance. For us, though its the charm of the ocean that brings us to this gem. the resort that we've chosen, Anse Chastanet, is the perfect combination of beautiful reefs, unique marine life, charming accommodations, spectacular views and gourmet meals. Click here for more information! |
---
Bonaire! New Year's 2018

What is there NOT to love about Bonaire! This island offers super easy diving on miles of healthy reef. There are over 60 beach accessible sites to explore so you can literally dive 24/7. Year after year, voters from Scuba Diving magazine name Bonaire 'The Best Beach Dive Location in The World.' With such an easy ocean environment, even the newest of divers will be comfortable going on this trip.

Our trip includes unlimited beach dives plus six boat dives, condo-like accommodations, breakfast daily, a rental car for the week and New Year's Eve fireworks. What a great way to bring in 2018. Please note: This trip will sell out so don't wait too long to sign up.

Click here for more information!
---
Indonesia: Raja Ampat Aggressor January 21- 31, 2018
Experience the best of Indonesia! For 11 days/ 10 nights you'll be on the liveaboard boat Raja Ampat Aggressor. This area consists of 4 main islands and over 1,500 smaller shoals, cays and islands and is considered the richest marine biodiversity on earth! Prior to jumping on board, join us in Bali, a magical place shrouded with breathtaking temples, rich in tradition, art and culture.
For more informaiton, call 269-968-8551.

---
About Group Travel

There are many advantages to group travel.

A SASS dive instructor or guide will lead the trip and take care of all travel details.
Free pool session prior to the trip to work out any issues with equipment, buoyancy and skills.
Discount on Nitrox Certification Classes and Refresher Courses. We will make sure you're prepared for this trip.

Pre-trip info meeting and post trip party.
Free coveted Sub-Aquatic Sports t-shirt!

Meet great people who love diving!

We Do Individual Travel

Group lead trips are not for everyone and sometimes your schedule doesn't fit what we have planned. Consider using Sub-Aquatic Sports for your next dive vacation. Why not book directly? We've been to tons of places around the world and probably can offer first hand suggestion on resorts and dive quality.

​Let's talk price. Our price is what you see on the internet. It should cost the same and hopefully cheaper.

For individual travel consultations, call us at 269-968-8551 or e-mail us at

info@sassdive.com.