Borneo: February 29, 2016

Sipadan Water Village in Borneo

Sipadan Water Village in Borneo is idyllic. Just look at this picture! The architectural design was influenced by the local Bajau Latu, a nomadic sea gypsy tribe. There are 45 water chalets built on the water. The resort is located on a part of the island where it is sheltered from waves so the floor of the water chalets is less than 1 meter above the high water mark. Each chalet is spacious and has wide sliding doors that open onto your private deck.

The dive center is also built on the water and equipped with lockers, showers and bathrooms. There's a common area for divers to rest between dives and enjoying complimentary snacks, hot coffee and tea. Boat dives are scheduled daily, (3 dives/day) plus unlimited tanks are included in this package for exploring the house reef.


Three Islands:
We'll visit three different islands, Mabul, Kapalai and Sipidan. This will give you a full range of experiences from tiny creatures to ocean giants. Mabul and Kapalai are heaven for studying micro marine life and guarantees hours of fascinating fish watching. Then, when we go to the world-renowned Sipadan Island, where you'll dive among the 'giants of the sea' like sharks and rays.

Mabul & Kapalai:
There are about 17 dive sites in Mabul and about 13 dive sites in Kapalai. It takes less than 15 minute boat ride to get from the resort to any of the Mabul and Kapalai sites. Most of the diving in this area is very shallow with depths from 10ft—60ft. On any given dive, divers may see as many as 25 or 30 remarkable photo subjects including squid, cuttlefish, anemone shrimp, gobies with blind cleaner shrimp, porcelain crabs, juvenile batfish, harlequin ghost pipefish, mushroom coral pipefish, mandarin fish, dragonets and many more.

Sipadan:
There are about 13 dive sites in Sipadan and most are wall and drift dives. With good sea conditions, it takes about 20 minutes from Mabul to Sipadan. Most of the diving in Sipadan is a combination of wall and drift diving. The walls are covered with hard corals, soft corals, gorgonians, sponges etc. You can see more turtles on one dive here than in a lifetime of diving most places. Divers may also see huge resident schools of barracudas, which make beautiful circling patterns on top of the reef, in 10 or 15 feet of water at the South Point.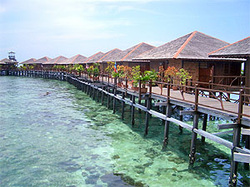 The Resort:

The entire resort is built over water on stilts made of Belian Wood commonly called ironwood, laid in certain points so as to minimize damage to the existing reef. In its design, Sipadan Water Village has achieved near utopia in its over-the-water layout. There are 45 beautifully designed water chalets: 4 Grand Deluxe chalets, 2 Deluxe chalets, 29 Standard chalets, 4 Semi-detached chalets and 6 Junior chalets. All water cottage accommodations have flower lined sidewalks and a view that will make it hard to go inside.

Accommodations for this trip are in the Standard Chalets which have either a twin/double or triple beds, a balcony offering sea or island view, tea/coffee maker, private bathroom and toiletries, hair dryer, hot/cold showers, ceiling fans, mini bar (consumption is charged to guest's room account), settees, dressing table/chair, wooden wardrobe, electrical light and outlets (220-240V). Add $30/night for air conditioning. This must be pre-booked and pre-paid.

The Dive Centre is responsible for all in-water activities, scuba training and education. The center opens from 0700hrs onwards and is equipped with 5 Bauer compressors, 80 cubic foot tanks with American style "K" valves and rental sets of scuba diving equipment that are mainly Scuba Pro.

The operation has custom-built fiberglass dive boats that carry 12 passengers each. Each boat goes out 3 trips daily accompanied by a boatman and a Dive Master. All Dive Masters are specially trained in the marine ecology of Mabul Island and will not only show divers the attractions but also impart their knowledge of the marine life so that guests may return from their memorable holiday with a better understanding of the environment.

All meals are served at the outdoor restaurant. Breakfast, lunches and dinners are all buffet –style. Expect typical dive lodge fare, not a gourmet. Snacks are served at the dive center daily.

After 3 or more dives each day, the perfect place to relax is at the lounge/bar. Enjoy a glass of wine and watch the evening sunset. This is the perfect time to talk about the day's dive and try to figure out what new and unique creature you've seen that day.

Sipadan Water Village is a resort located on the island of Mabul which is part of Borneo, Malaysia. To get to this destination, you will need to fly into Tawau Airport in Borneo. More flight info on the back.


---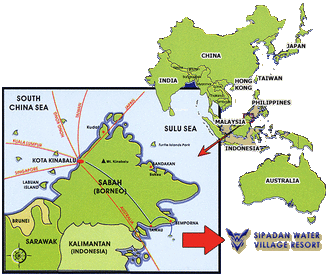 This trip starts from Tawau, Malaysia (Borneo) and includes:

· Airport meeting services in Tawau.
· Coach transfers from Tawau to Semporna (approx. 1 hr.)
· Speedboat transfer from Semporna to Sipadan Water Village (approx. 1 hr.)
· Accommodations based on double occupancy
· All meals daily, buffet style
· Snacks, tea, coffee, cold water served throughout the day
· 3 tank boat dives daily to Mabul, Kapalai or Sipadan Islands
· Unlimited tanks for shore dives (6am—8pm)
· Hotel Taxes (subject to change without notice)*



Not Included:
· $30/night for air conditioning. This must be pre-paid and pre-booked. There are a limited number of rooms and it does sound hot and steamy (think Wakatobi).
· $3.50/person Jetty fee. This is pre-collected and pre-paid.
· International flight to Tawau, Malaysia
· Sipadan Dive Permit will be charged approx. $11 per person per day, At this present time, only 120 divers per day are allowed so the exact number of days to dive the island is unknown.

· * As of April 2015, a new 6% Goods and Services Tax for consumable goods will go into effect. This tax will be added to your bill.

Cost:

9 Day Trip with 6 Dive Days Diver: $2895 Feb 29—March 8

10 Day Trip with 7 Dive Days Diver: $3199 Feb 29—March 9

11 Day Trip with 8 Dive Days Diver: $3589 Feb 29—March 10

A $500 nonrefundable deposit is necessary to guarantee space on this trip. Final payment is due 90 days prior to departure. Travel insurance is strongly recommended.


Sample Air:
As of May 10th, a flight out of Chicago to Tawau for $1158. Please note that you need to arrive into Tawau on February 29th. For this flight, you depart on Feb. 27th. The return date will depend on the package you choose.


---