Assistant Instructor Class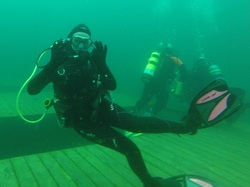 Assistant Instructor certification is your last step to becoming a dive instructor. The program introduces students to diving instruction basics. Your training includes a combination of classroom, pool and open water work.

Cost: $299

Classroom dates: August 14, 16, 21, 23
Water work and shadowing of a scuba class is also required.




---
Prerequisites:

Minimum age of 18
Certification in NAUI Master Diver & Rescue Diver or equivalent from other agency and all enrollees must have passed the NAUI Master and Rescue exams with a minimum score of 75%.
Minimum of 20 logged dives in a varied of environments.
Must own dive equipment
Must have documented medical approval by a licensed physician within last 12 months.

Swim Requirements


Without-a-doubt, the swimming requirements strikes the most fear in students. 'Old timer's' will tout that it's much easier these days. After you've become an instructor, in retrospect, you will laugh about the swim requirements.

It's time to face your fears!

Swim u/w 25 yard in one breath, no push off
Swim 450 yards nonstop using 2 different strokes
Survival swim for 20 minutes
Swim nonstop 900 yards with snorkeling gear
Buddy breathe for 4 minutes
Scuba Ditch and Recovery and Bailout